So since moving to LA I hadn't been back to San Francisco but recently have been there the past couple of weekends. Once was for casting for Top Chef 2 which is rapidly approaching, which went well besides the fact that I got good poisioning from a food tasting, ironic huh!?
Anyways, I went back on Monday of this week and returned to SF on Thurday for the 17th Annual GLAAD Media Awards which were held on Satuday June 10th at the Marriot hotel. I had a simply incredible time. I got to see my dear former roomies Paul and Brad who of course when we are together, we pick up right where we left off. For people around us, they cant believe that we have only known each other for a little over a year, it truly seems like a lifetime, I am so blessed to have the relationship I do with them, Nick from PR2 described them as "My 2 Gay Dads" and they are just that. Nick and his BF David arrived in town on Friday and since I was working and volunteeting my time with GLAAD and with Nick for the awards I prepared him by saying it was my weekend to take him out and about so be prepared...and oh hunny did he ever underestimate me! Friday after we went shopping at H&M and B,P, and I helped stuff the VIP gift bags; we were treated to an incredible dinner at LIME in the Castro where Chef Sharon made a fabulous meal that blew us away!! Then headed off to Daddys for a few drinks followed by the Mix and then of course home to bed, knowing full well Saturday would be a long day, which it was, but so enjoyable. Brad, Paul, and I were all celebrity escorts which made the evening that much more fun, getting to dress up and enjoy the company of some incredible people! I had the privelege of chatting with the creators of Queer as Folk, Dan and Ron who truly blew me away, such an honor to meet people who with a show changed my life and then also gave me hope for a future of directing and producing LGBT shows that can and will be successful.
Along with meeting them, they introduced me to Sharon Gless who played Debbie on Queer As folk...truly a kind hearted spirit who said when I become successful I better cast her in something...CAN YOU IMAGINE!!!???
I could go on for days about the incredible time I had this weekend but the point of it would be that this stuff happens to those who deserve it, to those who don't give up hope, know they are meant to do something special and to be who they are and people will love them none the less...I finally am starting to believe I am one of those people. Life hasn't stopped amazing me and as it goes day by day, I grow more and more, I learn more and more, and love more and more. One day my dreams will all be accomplished and to say that means the world...
Some pics for your enjoyment...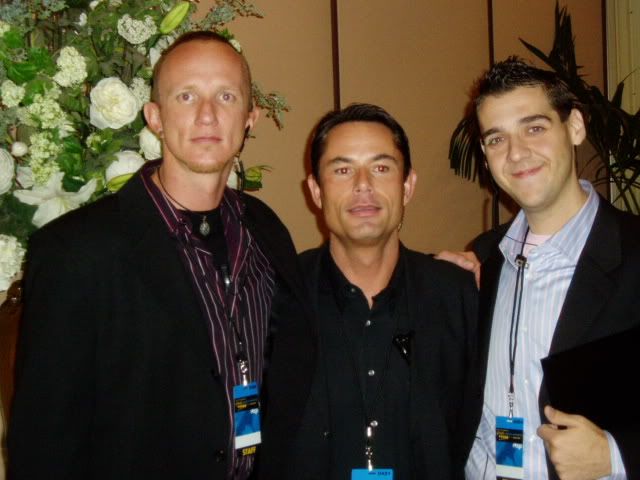 Brad, Paul, and I at the 17th Annual GLAAD Media Awards in San Francisco!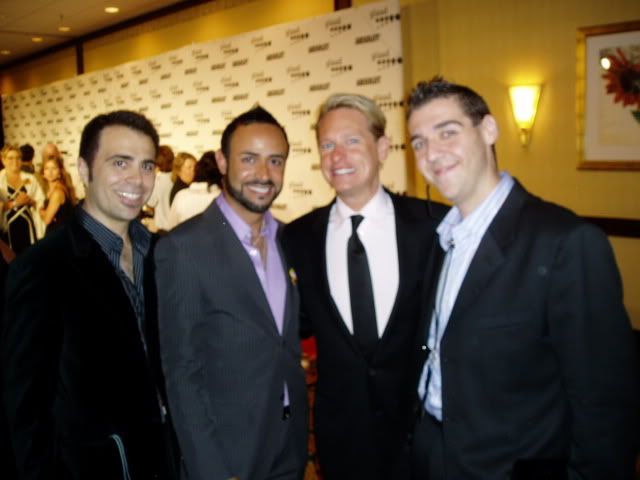 Red Carpet with David, Nick V from Project Runway 2, Carson from Queer Eye, and I
Megan Mullaly Hosting the awards show
Eserie, openly gay football player of the Greenbay Packers and I
Casey, the National Volunteer Manager and myself looking dapper!
This is Carson and I after the next pic...
I said to Carson...I want to take a pic...and this is what happened...FAIR WARNING!
**This is another picture from the GLAAD Awards and its truly one that gets its own posting and own story. In this picture are the creators of Queer as Folk, Dan and Ron, who were incredible to me the entire evening, remembering my name, introducing me to people who they worked with and of course to the incredible Sharon Gless who played Debbie on the show. I have to say, its things like this that I have a hard time explaining my feelings on. QAF changed my life, I came out to my parents in a large regard to that show and I became comfortable in being myself in watching these characters grow and love. In addition to that, it gives me hope that one day, I can create a show that will redefine the time and change peoples opinions on the LGBT community and help us grow even further into being equal citizens in this country. This picture is a dream come true...again...is this my life?
My life
Crazy
Living
full
my life
my dream
realizing
amazing